Elliptical: The Best Low-Impact Exercise Machine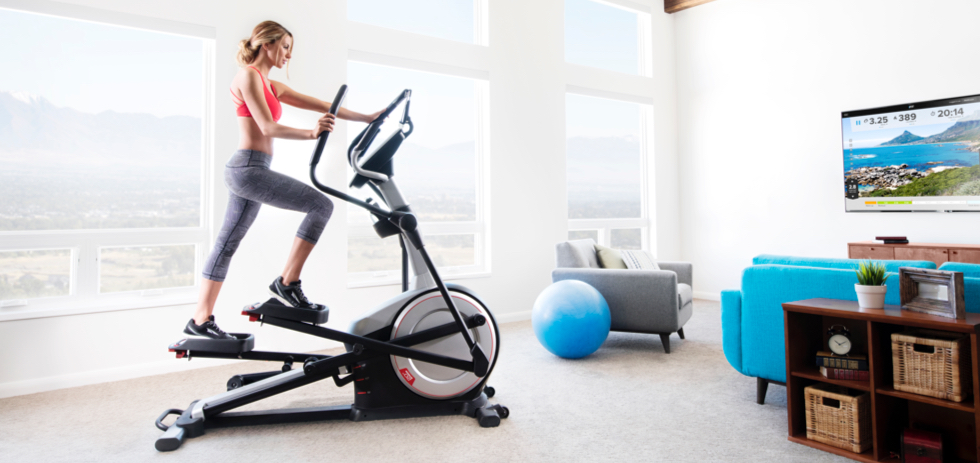 One of the most popular types of exercise machines found in homes and gyms across the planet is the elliptical. Elliptical machines are popular, in part, because they are easy to use—simply stand on top of large pedals, take hold of the handles, and move your legs back and forth in a gliding motion. People also seem to appreciate an elliptical because it can deliver a robust cardio workout without much impact on joints that are experienced with other machines. While less impact on joints is a significant benefit of working out on an elliptical, it is just the start of why those seeking wellness choose these remarkable machines.
Why is the elliptical good for you?
An elliptical may help users improve their overall fitness by helping to improve their aerobic capacity. As aerobic capacity improves, the ability to conduct longer, more strenuous workouts improves. This serves as the foundation for the overall fitness program for many.
Along with being good for building aerobic capacity, users can also target specific areas of the upper and lower body, depending on desired results.
What does working out on the elliptical do for your body?
Many consider an elliptical an excellent way to get a full-body workout. Proper use of an elliptical can help you develop multiple muscles including your legs and arms. It is particularly beneficial in building leg muscles – even changing directions from moving your feet backwards instead of forwards can provide a workout for your calves and hamstring muscles.
An elliptical also can provide a solid cardiovascular workout – strengthening the heart and burning calories. Since the user completely controls the pace of the workout, routines can be easily changed based on your current fitness level.
How long should you workout on the elliptical?
How long your workout should be will depend on your fitness goals.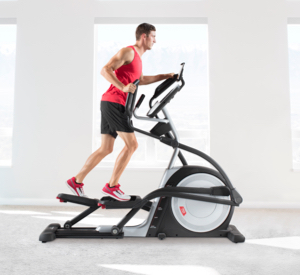 For those looking to maintain their weight and health while toning up, five 30-minute workouts per week on different days may be sufficient. If you are attempting to lose weight or are in a more aggressive mode to get in shape, 250-300 minutes per week may suffice. Be sure to allow time to warm up before your workout and cool off after your workout.
Keep in mind, there are three variables to an elliptical workout. They include duration, intensity, and frequency. Duration is the length of the workout, intensity can be adjusted through pace, resistance and/or incline, and frequency is how often workouts occur per day or week.
For who is the elliptical ideal?
An elliptical can be so versatile and effective it appeals to a wide range of users. Here are just a few:
Beginners
An elliptical is an easy to use machine that can increase in difficulty as fitness improves. This makes it perfect for beginners looking for equipment that can grow with them.
Those looking to burn calories
An average person can burn many calories during a 30-minute workout on an elliptical. Heavier users can burn even more. This makes it an excellent choice.
Multi-taskers
Depending on the intensity of your workout and the machine you choose, users of an elliptical can often read a book, watch a video, or even use a notebook or smartphone while using the elliptical. Always remember to use the handlebars or the stationary handles, if the machine has them, while you are multitasking, to prevent falling.
Those with joint issues
Since an elliptical has less impact and puts less stress on joints, it is an alternative for older users and those who have joint issues.
Rehabilitation
An elliptical can be used for rehabilitation purposes under the guidance of a doctor or physical therapist. By using an elliptical for rehabilitation, a person may improve their functional mobility, balance, and endurance.
Those seeking variety in their workouts
Many elliptical machines will feature a variety of features and adjustments that can keep workouts fresh and progressive.
Those who are busy
An elliptical is an excellent choice for those who are busy and need to make the most out of a 20 or 30-minute workout per day. You can pack a powerful cardio workout in a short period of time.
How is it different than working out on a treadmill?
While a treadmill and an elliptical can both provide great cardiovascular workouts, an elliptical offers a smoother motion with less impact on the joints. Many elliptical machines have an option to reverse the user's motion to deliver greater results. With handles that are available on most elliptical machines, users can get an upper body workout too.
A Solid Workout for a Beginner
Always remember to stretch before working out.
After stretching, start with a 5-minute warm-up period that includes light resistance and a pace of about 130 strides per minute (SPM). During the last two minutes of the warm-up, increase the resistance slightly while maintaining your SPM.
During minutes 5 thru 10, increase resistance to about a 5 out of 10, and speed up your SPM slightly to about 140 SPM.
For minutes 10 thru 15, adjust the resistance to about 7 out of 10 while you pedal backwards, maintaining your 140 SPM for the next 5 minutes.
At the 15-minute mark, simply switch from pedaling in reverse to pedaling forward keeping the same resistance and SPM level. Continue for 5 minutes.
From minute 20 thru 22:30, maintain your stride pace and tension level while pushing on the upper handles. From 22:30 thru 25: Maintain stride and tension pace while pulling on the upper handles. During minutes 25 thru 30, bring down resistance level to about five again while maintaining a 140 SPM. Finally, cool down for last 5 minutes at a level 3 with a reduced SPM of 130.
A Quick Workout for an Advanced User
For more advanced users with limited time, here's a short, 20-minute more aggressive workout.
Warm-up for the first 3 minutes at a resistance of 3 and then 2 minutes at a resistance of 5.
The second 5 minutes involves a series of quick pace and exertion changes that last 1 minute each and are to be repeated 5 times at about a 6 resistance level.
Each 1-minute period should include:
8 seconds at an exertion level of 9 or 10.
12 seconds at an exertion level of 5.
8 seconds at a 9 or 10 exertion level.
12 seconds at an exertion level of 5.
8 seconds at a 9 or 10 exertion level.
12 seconds at an exertion level of 5.
Use the next two minutes as your recovery time, moving backward at about a 3 exertion level.
Minutes 12 through 17 are a repeat of the series of quick pace changes performed in the second 5 minutes. Minutes 17 to 22 are your cool-down, with 3 minutes at level 5 and the final 2 minutes at level 3.
At ProForm, we understand you are your own best competitor. If you are striving to improve your time, score, or performance level, we are right there along with you. We are your trainer, fan, and teammate!
DISCLAIMER: This post is not intended to replace the advice of a medical professional. The above information should not be used to diagnose, treat, or prevent any disease or medical condition. Please consult your doctor before making any changes to your diet, sleep methods, daily activity, or fitness routine. ProForm assumes no responsibility for any personal injury or damage sustained by any recommendations, opinions, or advice given in this article.
Sources:
//www.mayoclinic.org/healthy-lifestyle/fitness/expert-answers/elliptical-machines/faq-20058294
//livehealthy.chron.com/elliptical-forward-vs-reverse-muscles-7558.html
//www.piedmont.org/living-better/which-aerobic-machine-provides-the-best-workout-elliptical-or-treadmill
//www.health.harvard.edu/diet-and-weight-loss/calories-burned-in-30-minutes-of-leisure-and-routine-activities
//www.ncbi.nlm.nih.gov/pubmed/20716990
//georgettepann.com/pdf/memberinnercircle/downloads/1269714224_x2007_chronicstaticstretchingimprovesexerciseperformance.pdf