Exercising During My Period: A Good Idea or Not?
Should I adapt my fitness schedule when I have my period, and if so, how? What activities should I choose or avoid during this time? How can I feel good and protect myself? To find out everything about exercising during your period, follow the advice of the #ProFormTeam!
Exercise During Your Period: The Right Idea!
Working out might be the best thing to try to make me feel better during my period, both in my body and mind:
Physical activity stimulates blood flow to the pelvic area, which can help to ease mild to moderate menstrual pain.
After 30 minutes of exercise, the body naturally releases endorphins, hormones that trigger a feeling of well-being and reduce pain.
Exercise reduces the level of the stress hormone, cortisol, which is an excellent way to stay positive during this time, as high levels of stress can also lead to pain during menstruation.
Physical activity helps to reduce the feeling of bloating, which sometimes occurs during a period. Exercise also helps to fight against water retention, which is frequent during this time.
Practising a physical discipline also has a positive effect on my morale: I feel serene, proud of myself and dynamic!
What Activities Can I Do During My Period?
Depending on how I feel during this time, I may find it more or less challenging to make a physical effort. I take it easy and adapt my level of activity to how I feel. I can continue with my usual training routine if I wish to create a tailor-made programme with gentler disciplines, such as walking, swimming, yoga, or stretching. Whatever I choose, I take care of myself and stay positive: it's my body, so it's up to me.
Are there any activities I should avoid during my period? Perhaps apart from some close combat impact sports (and depending on my temperament since blowing off steam may be a good idea during my period) or very intense physical activities that may challenge my energy levels, especially if I have a heavy or painful period, I don't set any limits. The right activity? Whatever I feel like doing and whatever I'm comfortable with. Depending on how my period affects my body, I may not perform at my best during that time of the month. So what? I exercise to make me feel better!
According to experts, there is no loss of muscle strength during menstruation. Only aches and pains or fatigue may make me feel less energetic than at other times. But who knows, maybe this session will be where I discover a crucial movement to progress and reach my goals faster!
By planning my fitness schedule, I can choose the most suitable day of my cycle to do my session for that week, either at the beginning, middle or end of my period, depending on my preferences. If I decide not to exercise from time to time, I don't feel guilty about it; on the contrary, I take the opportunity to rest and do another activity that I enjoy!
What Protective Products Should I Use?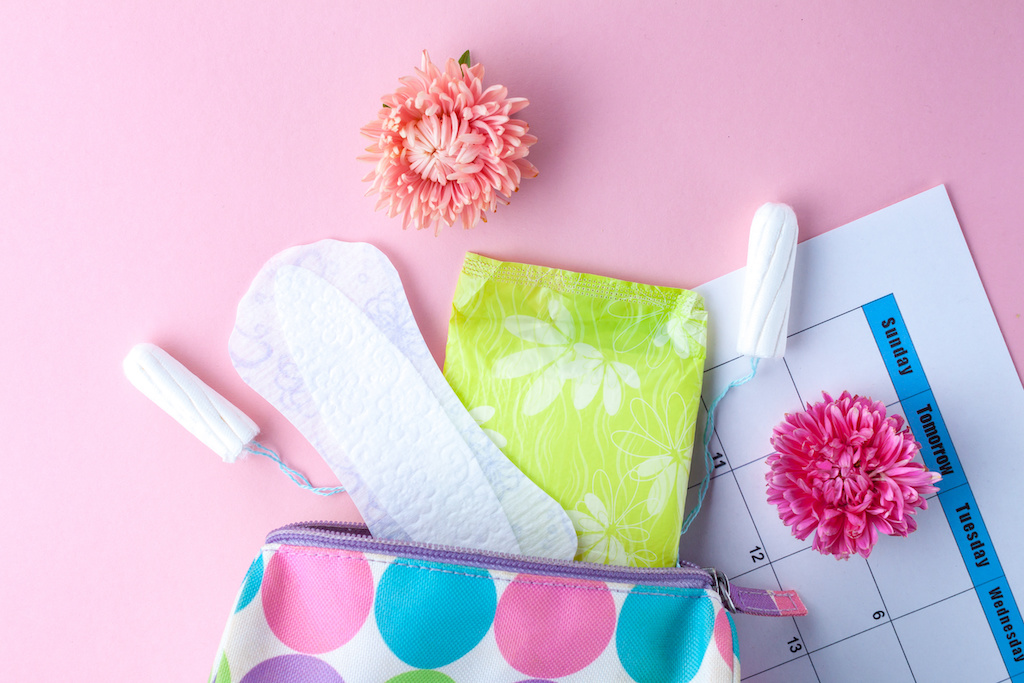 To work out with peace of mind during my period, I choose a feminine hygiene product that I feel comfortable with and that is adapted to my level of physical activity. None is better or more recommended than another; it's up to me to decide according to my preferences: menstrual cup, organic tampon, washable pad and so on.
If I go out, I bring extra protection, a change of clothes, underwear, and a large shower towel to change in the changing rooms if I feel comfortable. I change my protection just before the session, and I prefer black leggings that are not too tight around the waist for comfort. Moreover, the period is perhaps the time when I most appreciate the fact that I can train at home, without constraints and without worrying about others' looks!