I'm Just Starting Out: How Do I Choose My Rowing Machine?
A rowing machine is the perfect space-saving piece of fitness equipment for me: it allows me to build up my entire body while offering cardio sessions that are gentle on my joints. How do I choose my rowing machine and what are the specifications of the different ProForm models? Thanks to the advice of the #ProFormTeam, I'm sure I'll find the rowing machine that suits me.
A Complete Workout with My Rowing Machine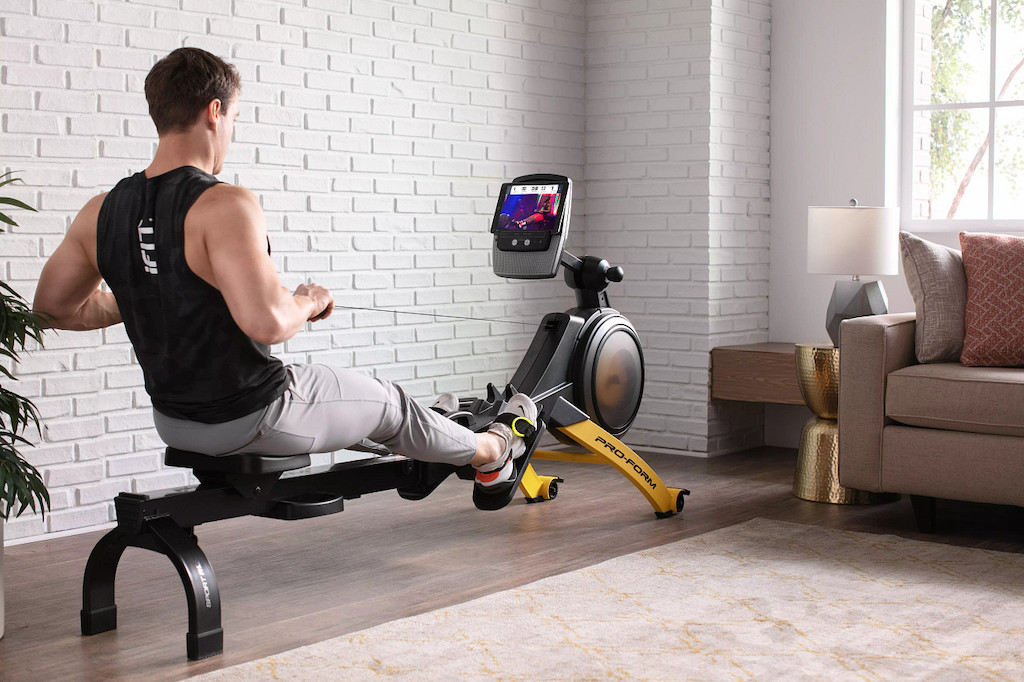 I decided to exercise the way I like to, i.e. at home, without constraints or needing to go to a gym. To do this, I have equipped myself, and a rowing machine is the ideal fitness equipment to meet all my goals:
This cardio-training machine allows me to get back into shape easily: I quickly gain strength and endurance
A rowing machine is a complete piece of strength training equipment: more than 90% of my muscles work during a rowing session!
It's easy to use and, once I've mastered the basic movements, there are plenty of possibilities for sessions!
3 Great Reasons to Get a Rowing Machine
Here are 3 reasons to use the rowing machine to train at home and stay fit:
A rowing machine is an excellent piece of fitness and cardio equipment: athletes of all disciplines use rowing machines to build up their muscles and train, so why shouldn't I do the same?
With a rowing machine, I can work out at home, at my own pace, and decide which programme I follow according to my schedule and desires. A rowing machine is the best way for me to progress and integrate exercise into my weekly routine!
A rowing machine is the smallest and lightest piece of fitness equipment! I choose a folding model so that I can put it away after my sessions.
I Choose the Rowing Machine that Suits Me
Amongst the ProForm rowing machines, , I take a look to see which one is right for me! To find the fitness machine that suits me, I consider my budget, the way I envisage my sessions (with virtual video coaching or not, for example), the ergonomics and comfort options, and the space taken up on the floor during the workout and once folded. Here is a brief comparison of the 3 ProForm models to help me choose my rowing machine.
The 750R: The Best for Interactive Training
With its 5″ backlit LCD screen, 24 digital resistance levels and a 1-year iFit® coaching subscription included, the ProForm 750R rowing machine gives me access to all training possibilities. I can add my tablet to the console, thanks to an ingenious system, and row while watching video sessions filmed in dreamy settings. The settings of my rowing machine are automatically adjusted according to the exercises performed. The rowing machine is easy to move, thanks to its transport wheels, and when folded, it measures just 113 x 55 x 73 cm. It offers a smooth, jerk-free motion and has an ergonomic, adjustable seat for comfort.
The 440R: Strength and Endurance to Build Up the Whole Body
The ProForm 440R rower is designed for a 2-in-1 workout, combining strength and endurance with a low pulley that allows for more upper body muscle targeting. It has 8 levels of resistance for a progressive workout and I can track my stats throughout the session on its large backlit screen. With its folding system and wheels at the front, I can carry it and store it wherever I want once my session is over. The compact rower's dimensions are reduced from 192 x 58 x 49 cm in use to only 94 x 55 x 134 cm of space when folded.
The R600: Versatile, with an Excellent Price/Performance Ratio
The R600 rowing machine is easy to store with a comfortable seat, an extra wide footrest and a strap to adjust the fit. It offers me a solid foundation for exercising the way I want without leaving my home! Once again, the SpaceSaver® technology means that it can be folded and transported in a single movement. I can follow my progress on its LCD screen and set up a customised workout, thanks to its 10 resistance levels.