iFit® Bluetooth® Smart Enabled
Run Anywhere in the World
Have you ever wondered what it's like to run in Barcelona? Just press start. Download a Google Maps™ route or create your own. This iFit® compatible elliptical automatically adjusts the incline to recreate trails, from Mongolia to Ecuador.
iFit® also sends you a brand new workout every day, designed by certified personal trainers, making it so you'll never get bored. This ever-growing workout library offers programs that progress with you from beginner to marathoner. Requires membership, sold separately. Tablet requires the iFit® Smart Cardio Equipment Application. Android 5.0+ with Bluetooth 4.0+. iPad 3 and above with iOS 8+.

0 – 10% Quick Incline™
Give Your Legs a Little Extra Burn
We consider incline training the treadmill game changer—you can literally prepare your body for those challenging uphill routes. The 205 CST offers powered, automatic incline adjustability. When you train with incline, you know you're giving your legs the best workout possible on a treadmill.
0 – 10% Incline Range
Motorized, Instant Adjustability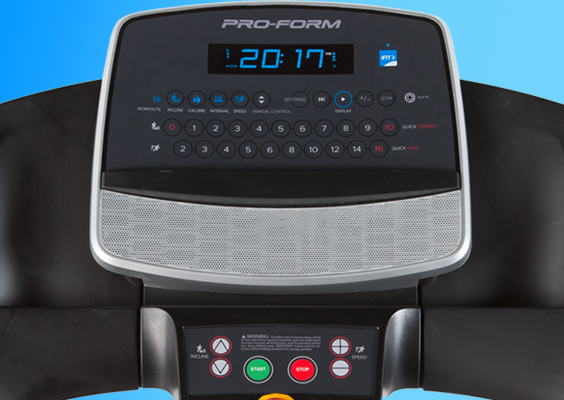 An Ergonomic Console
5" High Contrast Multi-Colour Display
The ProForm 205 CST treadmill features a console that lets you have all your information and controls at your fingertips. With one touch of the keys, you can choose your workout from the 16 preset workout programmes to optimize your fitness sessions.
The 505 CST Treadmill has a 1.75 CHP Motor.
0 - 10% Adjustable Incline
The 205 CST Treadmill features a 0-10% adjustable incline. Simply adjust this through the console.
Running surface - 127 x 41 cm
The running deck featured on the 205 CST treadmill is 127 x 41 cm.
The 205 CST Treadmill features a 5" backlit display console.
When you step on the deck of a ProForm treadmill, you get instant access to professional training programs fully loaded and ready to go. Now you can enjoy a challenging workout focused in on your goals. Just press "Start" and you're off.

iFit® Bluetooth Compatibility
The 205 CST is iFit® bluetooth compatible.
Product dimensions - 165 x 74 x 142 cm
The product dimensions of the 205 CST treadmill is 165 x 74 x 142 cm (LxWxH).
This machine is foldable with SpaceSaver design.
Folded product dimensions - 89 x 74 x 152cm
The folded product dimensions for the 205 CST Treadmill is 89 x 74 x 152cm (LxWxH)
The total product weight for the 205 CST Treadmill is 56kg.
The total max user weight for the 205 CST is 115kg.
The total boxed weight is 64kg.
Package dimensions - 171 x 77 x 32 cm
When boxed the 205 CST Treadmills dimensions are 171 x 77 x 32 cm (LxWxH).
Built in speakers for iPod Audio Connectivity
Once you create your raving workout playlist, just plug your iPod® or MP3 player into our built-in sound system. Built with two 2-inch speakers, you can turn up the tunes and turn up the tempo. Experts have learned that we actually increase or decrease our pace to match the tempo of our tunes. Plus, music has also been proven to lower perceived exertion.

*iPod® is a trademark of Apple, Inc., registered in the U.S. and other countries. iPod® not included.
NEW WORKOUTS EVERY DAY ALL OVER THE WORLD
With an iFit Coach membership on your ProForm product, you'll go around the globe with breathtaking Street View images right on your equipment console or tablet. Plus, with terrain matching technology, you'll feel every hill and dip, as if you're actually outside.