The Ultimate Cardio Workout
Burn More Calories in Less Time With HIIT
Step up to new heights on the Cardio HIIT Trainer. Combining the movement of climbing stairs with the intensity of boxing, each workout helps you activate more muscles throughout your whole body while burning more calories.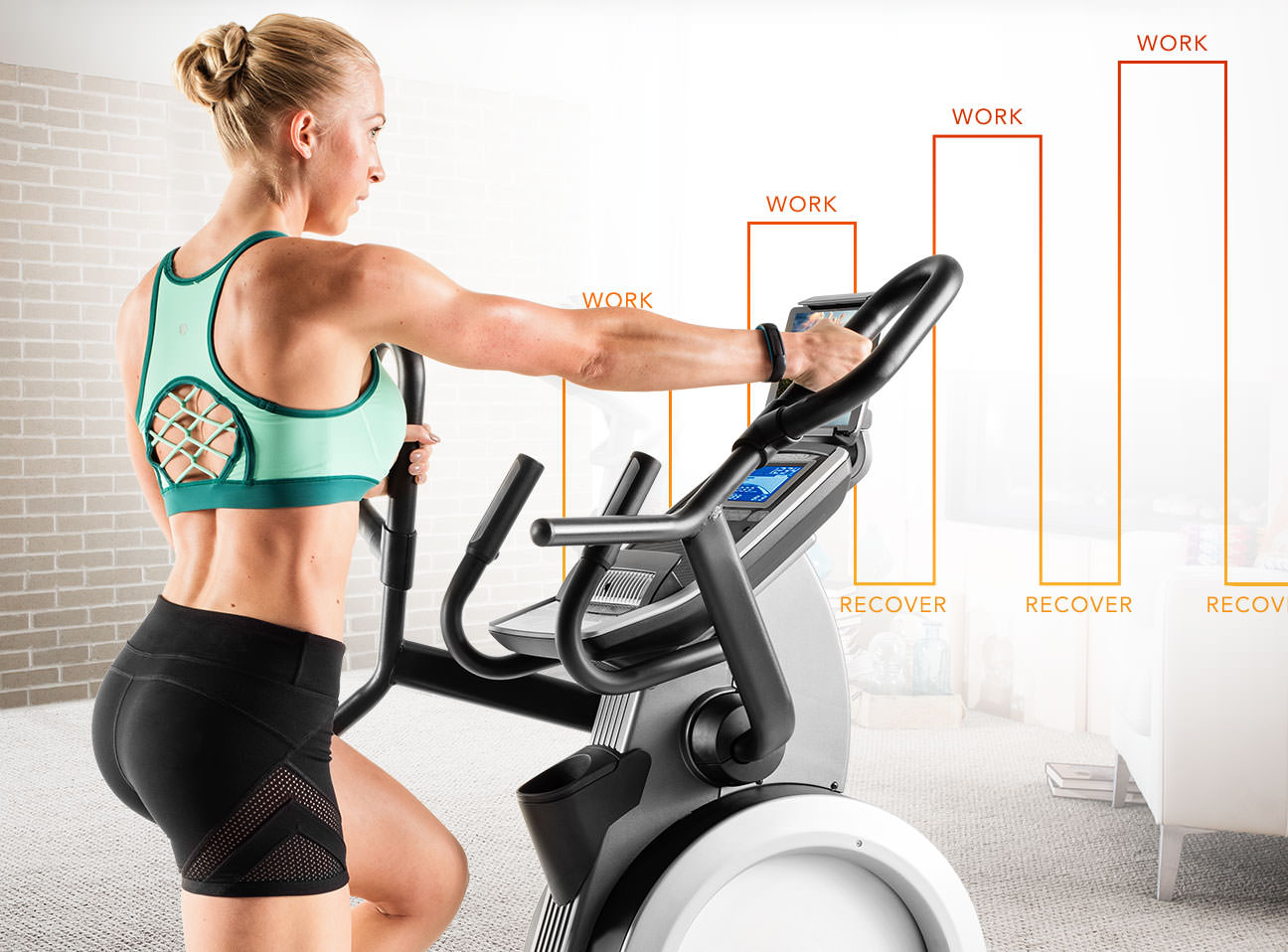 What is HIIT?
High Intensity Interval Training
High Intensity Interval Training, or HIIT, is a training technique that involves repetitively giving 100% effort for a set amount of time followed by short recovery periods. You'll get and keep your heart rate up, burning more calories and building strength throughout your workout.
Keep Your Floor Space Yours
Smaller Than A Regular Elliptical
One of the biggest concerns people have about in-home fitness equipment is the amount of space it takes up. The HIIT Trainer resolves those concerns. The compact footprint takes up half the space of a normal elliptical exercise machine, leaving you with room to roam.
Smooth Moving
Zero Impact
Put your joints at ease while in the middle of a challenging workout. With the HIIT Trainer, your feet never leave the pedals, giving you a zero-impact experience to help reduce stress on your joints and back.
7" Backlit LCD display provides you with all key feedback including intensity, speed, time, distance, calories and pulse.
iFit Bluetooth Compatible
iFit® sends you a brand new workout every day, designed by certified personal trainers, making it so you'll never get bored. Requires membership, sold separately. Tablet requires the iFit® Smart Cardio Equipment Application. Android 5.0+ with Bluetooth 4.0+. iPad 3 and above with iOS 8+.
The Cardio HIIT comes equipped with 24 resistance levels to choose from that can be simply engaged using the console.
Product dimensions - 132 x 74 x 170 cm
When the ProForm Cardio HIIT is assembled the total dimensions are 132 x 74 x 170.
The total product weight is 85 kg.
The Cardio HIIT accomodates a 125kg max user weight.
Package dimensions - 85 x 46 x 123
Audio speakers allows you to easily attach a music source for entertainment as you train.
32 Preset Workout Apps - 8 Calorie Goal, 7 Intensity, 8 Speed, 8 Incline.
EKG™ Heart Rate Pulse Grips
Dual EKG pulse grips for a quick and easy reading.
Water Bottle Holder Attached
Stay hydrated throughout your workout by keeping your water bottle close. This convenient water bottle holder is built into the SMART HIIT Trainer for easy access.
10" Vertical / 5" Horizontal Stride
Unlike other stepper machines, the Cardio HIIT Trainer is designed for your feet to travel on a 10-inch vertical and 5-inch horizontal elliptical path. This motion puts you on track to burning more calories and building more strength.
Transport Wheels Included
Transport wheels so you can easily move the machine when not in use.
Multi-Function Handlebars
Our workout arms take your fitness from the straightforward lower-body workout of the treadmill to the total-body elliptical experience. By adding resistance and movement to the upper-body, you challenge your arms, shoulders, back, and core with each step.
Turn fitness time into multi-tasking time. This device shelf keeps your tablet secure and conveniently close so you have access to all your training tools and entertainment must-haves.
NEW WORKOUTS EVERY DAY ALL OVER THE WORLD
With an iFit Coach membership on your ProForm product, you'll go around the globe with breathtaking Street View images right on your equipment console or tablet. Plus, with terrain matching technology, you'll feel every hill and dip, as if you're actually outside.