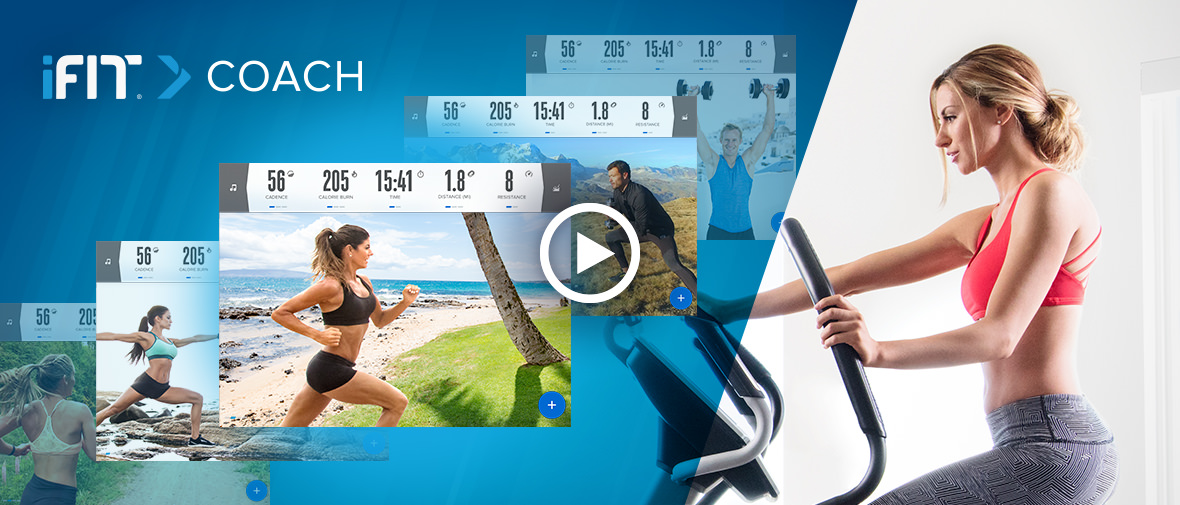 iFit® Bluetooth® Smart Enabled
Pick Anywhere in the World and Go
Making time for world travel is a challenge—but it doesn't have to be impossible. Visit Paris, hike the Swiss Alps, or jog the Chilean coast with your iFit® Coach Ready™* Exercise Bike powered by Google Maps™. You can also customize your workouts with unlimited programs designed by certified personal trainers. And our ever-growing workout library offers programs that progress with you from first-time user to daily enthusiast.

*Access iFit® account from computer, tablet, or smartphone. Requires membership, sold separately. Trademarks and trade names are those of their respective owners. Google Maps™ is a trademark of Google, Inc. Tablet requires the iFit® Smart Cardio Equipment Application. Android 5.0+ with Bluetooth 4.0+. iPad 3 and above with iOS 8+.Tablet not included.
Global Google Maps™ Routes
Unlimited Fitness Library
Strengthening Personalized Nutrition
Extensive Connected Tracking
20 Levels of Digital Resistance
SMR ™ System - Silent Magnetic Resistance
The ProForm 225 CSX bike is equipped with magnetic resistance which is reinforced by the SMR™ system. This allows you to enjoy your sessions in silence and with ease depending on how high you wish to crank up the resistance.
With a effective inertia of 8 kg, you will experience a smooth and comfortable pedaling motion.
Finally, the digital resistance has 20 levels that can be changed by simply pressing + or - on your device for the best training.
Effective inertia of 8kg
20 levels of digital resistance
Integrated Workout Programmes
20 Workout Programmes
The 225 CSX exercise bike has 20 workout programmes available through the console targeted for more and more performance.
Adjustable tablet holder allows you to attach a tablet device for both entertainment and iFit Workouts. *Tablet not included.
Stereo speakers allows you to easily attach a music source for entertainment as you train.
20 Digital resistance levels.
New round Watts LED display provides you with all key feedback including intensity, speed, time, distance, calories and pulse.
Self leveling pedals with pedal straps.
Designed to keep your feet in place, these pedals are built with straps to increase stability.
Transport wheels so you can easily move the machine when not in use.
iFit Bluetooth Compatibility
iFit Smart BlueTooth compatible gives unlimited online training options. Tablet requires Android 5.0+ with Bluetooth 4.0+. iPad 3 and above with iOS 8+.
8 kg Flywheel for a smooth motion.
20 Pre-programmed workouts.
Package dimensions - 92 x 35 x 66 cm
The total package dimensions are 92cm x 35cm x 66 cm.
Dual EKG pulse grips for a quick and easy reading.
Bikes - 2 Years parts, labour and frame guarantee subject to warranty registration.
Product dimensions - 142 x 61 x 139 cm
The product dimensions for the ProForm 225 CSX Cycle are 142 x 61 x 139 cm.
SMR Silent Magnetic Resistance
The ProForm 225 CSX Cycle comes equipped with SMR SIlent Magnetic Resistance.
The total package weight is 35 kg.
Total product weight is 30 kg.
NEW WORKOUTS EVERY DAY ALL OVER THE WORLD
With an iFit Coach membership on your ProForm product, you'll go around the globe with breathtaking Street View images right on your equipment console or tablet. Plus, with terrain matching technology, you'll feel every hill and dip, as if you're actually outside.