My Home Exercises Without Equipment
All I need to get started in fitness and achieve my goals is my determination! I can start easily right now with exercises that I can do at home without equipment. I can take control of my health and motivate myself with the advice of the #ProFormTeam!
How Do I Start to Train At Home?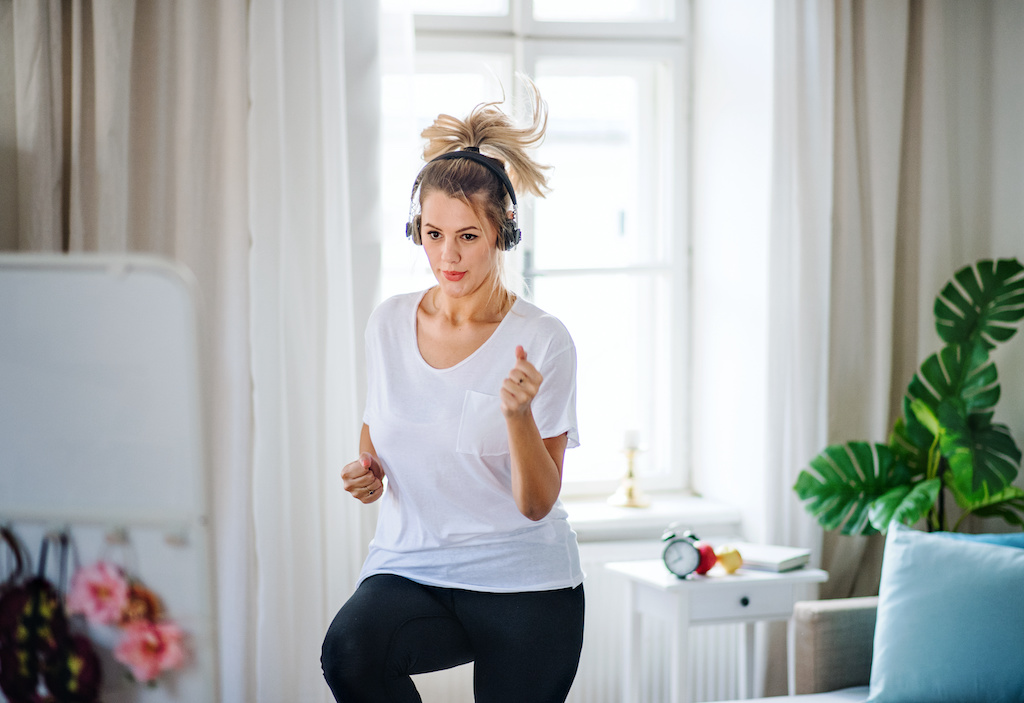 I know why I decided to start exercising at home. I've already learned how to set goals to stay motivated over time. The keys to my success? My willpower, knowing where I'm starting from and where I want to go, and being able to choose my pace and how I train at any time.
To get back to working out at home, I start with easy exercises that I can do anywhere, without equipment. I want to put physical activity back into the heart of my daily life. To do this, I need to take every opportunity to exercise!
To improve my performance quickly and avoid injury, I follow a golden rule: no training without a warm-up! I take it easy and prepare my body gradually for the workout with a 5 to 10-minute warm-up before each session.
Top 10 Exercises to Do At Home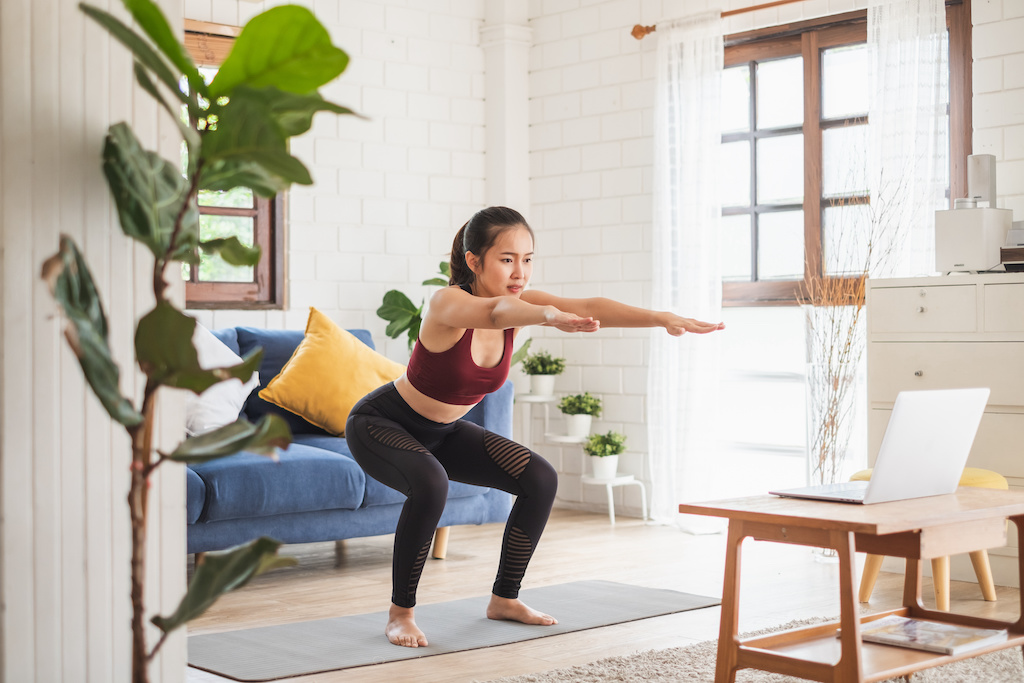 To build up my body and vary my home fitness sessions, I start by building up a set of foundation movements that combine cardio and strength training. Here are 10 essential home exercises:
Squats -Thighs and Buttocks:

I start by standing, with my arms straight out in front of me and my legs hip-width apart.

I bend my legs to 90°, keeping my chest covered.

I straighten up and start again.

Front Lunges – Quadriceps, Calves and Glutes:

Standing with my arms at my sides, I bring one foot forward.

I descend until I touch the ground with my back knee, my front leg forming a right angle.

I stand up and reverse the movement.

Press-Ups (on the Knees at First) – Pecs, Triceps and Deltoids:

Kneeling, I place my hands flat on the floor at shoulder level.

I lower my chest, keeping my abs contracted.

I raise my chest and start again.

Chair Crunches – Abs:

I lie on my back. To protect it, I put my lower legs up on a chair in front of me.

I move my head and chest towards my knees, allowing my hands to slide down my thighs.

I slowly unroll myself back to my original position and start again.

The Plank – Abdominal, Back and Arm Muscles:

I stand facing the ground, supporting myself only on my tiptoes and forearms.

With my body well sheathed, I hold the position for a few seconds before releasing.

Wall Sit – Quadriceps and Hamstrings:

Standing with my back against a wall, I slide down the wall as if I were sitting on an imaginary chair.

I hold this bracing position for a few seconds before standing up.

Star Jumps – Cardio, Calves, Glutes, Adductors, Trapezius, Deltoids and Triceps:

I start by standing with my arms at my sides.

I jump by spreading my legs and raising my arms above my head.

I jump a second time, returning my legs and arms to the starting position, then I start again.

Mountain Climbers – Cardio, Abdominal Muscles and Overall Muscle Strengthening:

I position myself as if doing classical press-ups, leaning on my hands and the tips of my toes.

I bend and move my legs forward, one after the other under my chest. When one leg is bent, the other is extended.

The movement is reminiscent of climbing but performed horizontally.

Burpees – Cardio, Legs, Glutes, Pecs, Arms, Shoulders and Abs:

I bring my palms forward and throw my legs backwards into a plank position.

I do a pump (if I can't do it, I can skip this step at first. There's no pressure; the movement will be just as beneficial for my heart).

Still leaning on my hands, I bring my bent legs under my body and stand up.

I jump up with my arms in the air.

Knee Raises – Cardio and Hip Flexor Muscles:

Standing with my chest upright, I alternately raise my right knee and left knee as high as possible.

I connect the movements quickly to boost my cardio!
Continuing Cardio to Go Further: What Should I Do?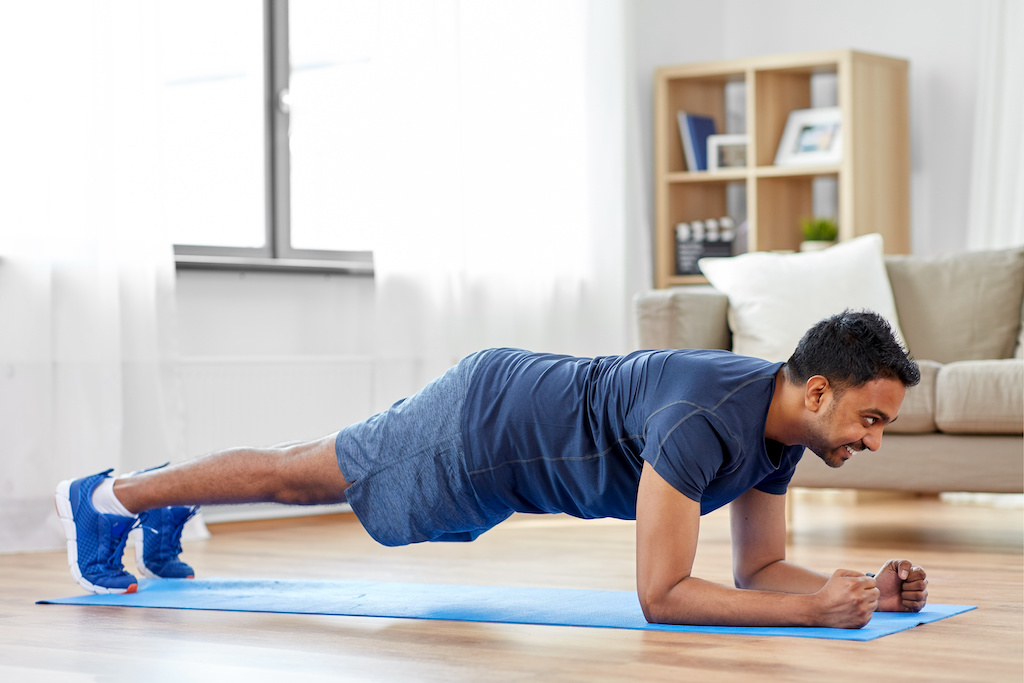 Once introduced to cardio training, I can go further and bring a new dimension to my training with the advice of the #ProFormTeam:
I stretch after exercise to increase flexibility, relax my muscles and avoid injury.
I'm starting to track my performance to keep track of my successes and reassure myself that I'm making progress.
I'm thinking of getting some equipment for cardio and strength training! Where do I start? I can read the article on the must-have fitness accessories for home training, find out how to choose an exercise bike or rowing machine, or consider buying an elliptical or treadmill, for example.
In any case, I regularly consult the tips given on social networks and the blog to stay motivated and find inspiration to keep moving in the right direction!