The mood food trend is coming to iFIT: when eating helps me feel good in my head
I integrate the principles of mood food by following an iFIT Mind™ programme divided into 12 sessions, offered by Dr Eva Selhub, iFIT coach and physician. So how can I play on my mood and morale with a few easy-to-find ingredients found in my cupboard? In a first article dedicated to this subject, The #ProFormTeam gives me some hints for deciphering the wellness trend of the moment!
The Mood Food: Nutrition For Your Mind series, a new nutrition programme on iFIT
Interactive coaching platform iFIT is launching a comprehensive nutrition programme as part of its iFIT Mind™ series, dedicated to mind-body harmony to stay healthy. The Mood Food: Nutrition For Your Mind series concretely explains the links between diet, stress and emotional balance, based on the mood food trend.
Through 12 sessions with iFIT coach Eva Selhub, I discover how what I put on my plate affects my body and my mood. This comprehensive programme provides easy ways to put the concepts into practice. It is combined with a printable recipe book with balanced and tasty menus, including vitamins, minerals and fermented foods.
Who is Dr Eva Selhub, my iFIT nutrition and wellness guide?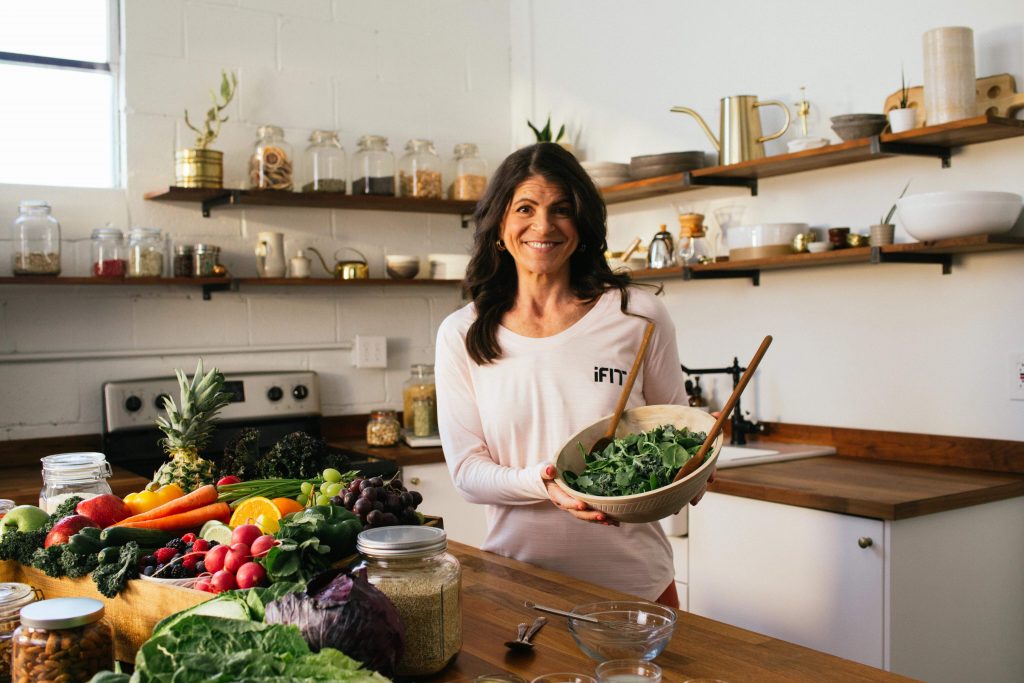 Eva Selhub is a physician, lecturer and author of several books on body function and resilience. She advocates an alternative approach to health, combining physical fitness with psychological well-being. She clearly explains complex processes, such as the links between the digestive system and the brain.
She introduces me to very simple ways to improve my quality of life through mindful eating, with natural ingredients that can help me feel good! Through her series, I learn a lot and most importantly, I can immediately apply her advice as she shares her favourite recipes and explains how to enjoy eating. I feel like I'm right there with her in the kitchen!
What is the mood food trend anyway?
The principle of mood food is very simple to understand: what I eat has a direct impact on my mood and emotional balance. Even without scientific discourse, I know that I immediately feel pleasure when I eat a square of dark chocolate, which contains magnesium, known for its anti-stress properties. Similarly, the smell of certain foods inevitably brings back happy memories of childhood.
Studied by many scientists, the links between the intestine and the brain have been established for several years. These organs communicate through chemical messages transmitted in both directions by the vagus nerve. We now know, for example, that the intestine is capable of secreting endorphins, the relaxation hormone, which is why it is sometimes called the second brain. The intestinal microbiota is also a fascinating microscopic universe to understand in order to eat better and be in great shape!
This trend is being taken very seriously by the food industry and is giving rise to some interesting experiments: for example, some airlines are offering anti-stress meals to help passengers relax on planes!By knowing a little more about the mechanisms at work in my body, I can compose mood food menus specifically designed to feel better, cope with everyday stress and feel good! By offering me exercises at the end of each session of the Mood Food: Nutrition For Your Mind series, Dr Eva Selhub helps me to integrate good eating habits into my daily life and to diversify my menus. See you soon with the #ProFormTeam to discover the 12 sessions of this exceptional iFIT series in detail!